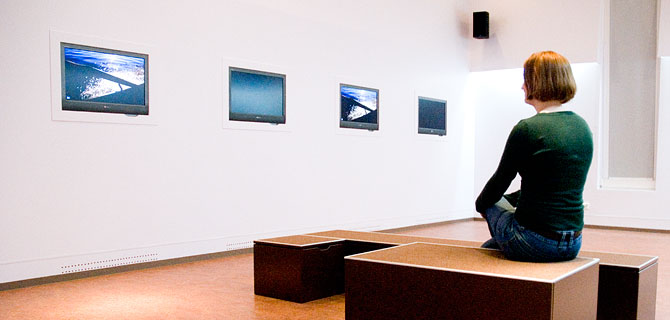 The exhibition space is primarily intended for the presentation of high standard digital and traditional works of Finnish and international nature photographers. The exhibition space will concentrate on displaying digital photographs using static and moving pictures. Nature photographers will be given priority when selecting exhibitors.
The exhibitions will be changed 3 times a year. Exhibition periods may be specified by exhibition in the annual calendar. Notifications of maintenance periods for the exhibition space will be informed as and when necessary.

See the information on the current exhibition here.
Upcoming exhibitions in The Hall of the Siberian Jay:
Autumn 2020: Ville Heikkinen
Summer 2021: Peter Engman
Previous exhibitions in The Hall of the Siberian Jay:
Kari Loimu: Gamvik - A Village on the edge of Europe
Timo Jokela&Antti Stöckell: Into the forest! Nature photographs through environmental art and installations 16.1.-16.5.2019
Arto Kolehmainen: Nature photographs from beyond the fells 7.9.2018-15.1.2019
Jarmo Manninen: Koillismaa 29.5.-6.9.2018
Jaana Kotamäki: A brush with nature 16.1.-28.5.2018
Juha Taskinen: Secrets of Saimaa - 40 years among the ringed seals 7.9.2017-15.1.2018
Sami Karjalainen: Waterside insects 18.6.-6.9.2017
Kirsi Ihalainen & Olli Lamminsalo: Soft movements & untamed sounds 17.1.-17.6.2017
Matti Pukki: The Spirit of the Forest 9.9.2016-16.1.2017
Irma Varrio & Ari-Matti Nikula: Northern Impressions 19.6.-8.9.2016
Sergey Gorshkov: Voice of the wilderness 19.1.-18.6.2016
Lassi Rautiainen: From Kuhmo to Kuusamo 9.9.2015-17.1.2015
Nils Sundberg: The mesmerizing Archipelago 2.6.-8.9.2015
Pertti Härkönen: 40 years in the backwoods 20.1.-1.6.2015
Markku Saiha: On the shores of the Baltic Sea 12.9.2014-19.1.2015
Lasse Niskala: Dawn, morning and daybreak 10.6.-11.9.2014
Heikki Willamo: A year in the forest 10.2.-9.6.2014
Antti Leinonen: Life of a wolverine 6.9.2013-9.2.2014
Lauri Lajunen & Jari Peltomäki: Aves Ouluensis 30.5.-5.9.2013
Kai Kuntola: This is Lake Saimaa Calling 15.1.-29.5.2013
Juha Suonpää: Nature photo and the art of the Golden Era 6.9.2012-14.1.2013
Tomi Muukkonen: Birds here, birds there 15.5.-5.9.2012
Esko Pitkänen: In Hailuoto with my camera 10.1.-14.5.2012
Arvid Sveen: Tinden 9.9.2011-9.1.2012
Hannu Hautala: Encounters in Nature 14.5.-8.9.2011
Benjam Pöntinen: Best of Benga 11.1.-13.5.2011
Markus Varesvuo: Survivors 9.9.2010-10.1.2011
Petteri Törmänen: The spring of my life 4.5.-8.9.2010
Jorma Luhta: Starry nights 7.1.-3.5.2010
David Maitland: Creatures and Spirits 11.9.2009-6.1.2010
Heikki Kokkonen: Nature treasures from North Karelia 11.5.-10.9.2009
Pauli Nieminen: Tuomas Elf is a forest elf 12.1.-10.5.2009
Mika Honkalinna: Lumen aika 11.9.2008-11.1.2009
Hannu Vallas: A bird's eye view of Finland 24.3.-10.9.2008
Jari Peltomäki: Owls from taiga to tundra 2.1.-23.3.2008
Paavo Hamunen 3.9.2007-1.1.2008
Arto Raappana 25.5.2007-2.9.2007