May 2013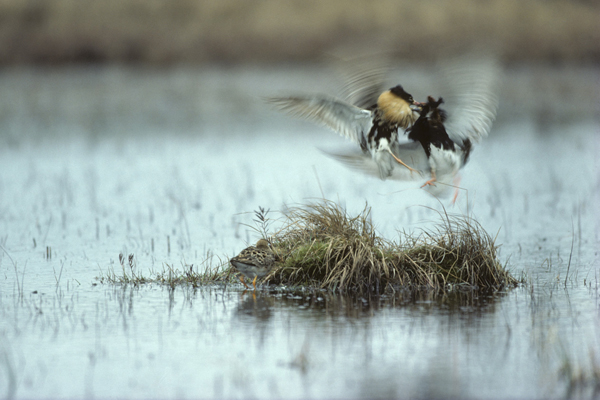 THE BATTLE AND THE WINNER
The mating rituals of Ruff gives a lot of opportunities for photographer. The event is colourful, it is a real action, bluster and life.
In the tournament just a battle in the arena is the most important, and the prize, the female, belongs to the winner. It does not help to spend, either to give up.
The ruler of a small mound has had to battle with a Ruff which has followed the female in the swamp. Cloudy morning was dim, and the scanty light didn't give enough fast exposure. The result is good, however: the pace of the battle will appear in an excellent way.
Only on the light table i found a female nodding a head shyly underneath the wing, while Ruffs are battling her popularity. That is feminine self-confidence.
Kuusamo, June 1985
Technique: Canon A 1, motor drive 2.8/300 mm, tripod, hide, Kodachrome 64